Robots.txt Editor for Umbraco 5
First migration of my Umbraco packages to the newly released v5 (Jupiter), I am proud to announce… Robots.txt Editor for Umbraco 5!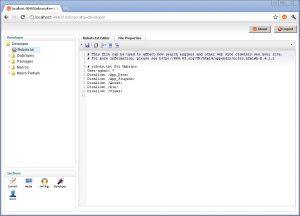 The majority of the re-development was done during the #umbWeekend (last weekend – 27th January). It was fun to explore the new codebase and APIs for Umbraco v5; creating tree nodes and building the editor. Then a few evenings this week to polish-up the UI, etc.
For any developers wanting to know more about the code/structure, please do take a look at the source code. Any questions, catch me on Twitter.