Week 33
August 16, 2021 to August 22, 2021
Preamble: Argh, it's happened again, late in publishing up my weeknotes! (I'm writing this during Week 36, hello!) The past month has been quite busy with work and family life, school summer holiday, of course! Okay, back to Week 33...
More work, work, work. My current client project has been quite intense, taking up most of my energy.
Monday, heard the news that Umbraco had been acquired, along with Niels Hartvig leaving Umbraco. I have mixed emotions about the acquisition and Niels exit, as a major part of Umbraco's attraction was Niels' vision for the CMS, (especially in the earlier years). I wish Niels all the best with whatever he chooses to do in future. Thank you for a great Open Source CMS! 🙏
For years, friends have been telling me to watch Mortimer & Whitehouse: Gone Fishing, so I've been catching up on BBC iPlayer, I'm thoroughly enjoying it.
Tuesday, had a haircut, felt a bit more normal.
We finished the jigsaw that we'd started the week before. 1,500 pieces, it was a beast!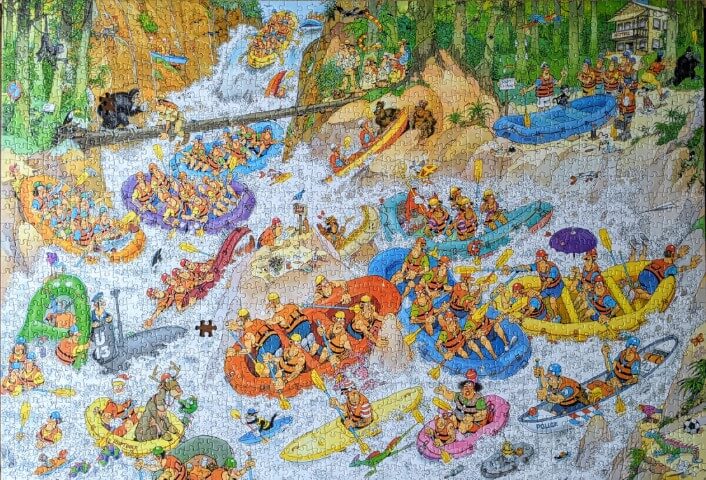 I enjoy the Jan van Haasteren puzzles, the cartoons and characters are fun. I found a dedicated webshop, jvh-puzzels.com. It seems they are quite popular, as I also found an in-depth review of the "Wild Water Rafting" jigsaw (above), crazy level of detail!
Wednesday, I had an Umbraco MVP Connect call, to ask questions about the Umbraco acquisition. It's interesting as most of the Umbraco chat seems happens on the back channels these days, not so much in public (well, I mean, Twitter).
Friday night, went to the pub, played card games. It's one of those things that I do with the family, but hardly with mates having a beer. Good nostalgic fun.
Saturday, we took the kids (and their friends) to Legends Festival at Blaise Castle. A full day of tribute acts. It's the first music festival we'd taken the kids to, they really enjoyed it. For the last few acts they were up by the front of the stage, loving it. My highlight was the Queen tribute (Killer Queen), and was surprisingly impressed at the Robbie Williams tribute (Dan Budd), he had all the mannerisms down to a tee.
Not to go into too much detail, we mourned the passing of two friends this week, RIP Gill, RIP Dot. You and your families are in our thoughts. 🙏