Week 12
March 22, 2021 to March 28, 2021
I forgot to mention last week that I'd completed the Census. As a web-dev, I was impressed how well the digital forms had been done, a solid example of accessible web design.
Tuesday, I worked back in my office. It was horrible. Quite lonely. Doing brownfield client work didn't help much either. Moved back to the dining table on Wednesday. Think it's going to take me a while longer to re-adjust to my old set-up.
In-between work tasks, I'd been hacking around with my Umbraco plug-in, Contentment - plenty of new surprises to come.
Friday evening was our local monthly Yatton 'Skype' Open Mic Night (the Lockdown Anniversary!) I did do a few of the compering links again. Good daft fun.
However, I didn't actually watch the Open Mic night live, as KK had been putting a lot of pressure on me to watch Avengers: Endgame, and given that I'd already seen many of the Open Mic submissions before doing the links, I gave in to KK.
Avengers: Endgame. What to say. After the emotional ending of Infinity War, KK's anticpation was high, and oh man, did she have an emotional rollercoaster during Endgame! Thrills, shocks, laughs and tears. It's been lovely to share the movie journey with her.
Next up for Alphabet Albums was "G"... Gorky's Zygotic Mynci - Barafundle, Goldfrapp - Seventh Tree, and The Go! Team - Thunder, Lightning, Strike.
Saturday, out in the garden all day. Great to be outside all day, but my garden requires so much maintainence, and I'm quite a lazy person! 🤣
Saturday family movie night was LL's choice... Harry Potter and the Order of the Phoenix. We're whizzing through them now! LL has been reading the books on her own, she seems to have acquired her sister's passion for speed-reading too!
Later on Saturday night, I'd spotted Unforgiven was available on Amazon Video. It's another one of those films that I'd been wanting to watch for years but never got around to, so thought why not now. It's a great movie, enjoyed it a lot.
Through out writing these weeknotes, feels like all I'm doing it watching movies and doing jigsaws. Whereas in the past week, I hardly watched any TV until Friday night, then 3 movies within 24 hours, and nothing since!
Did a quick jigsaw on Sunday morning...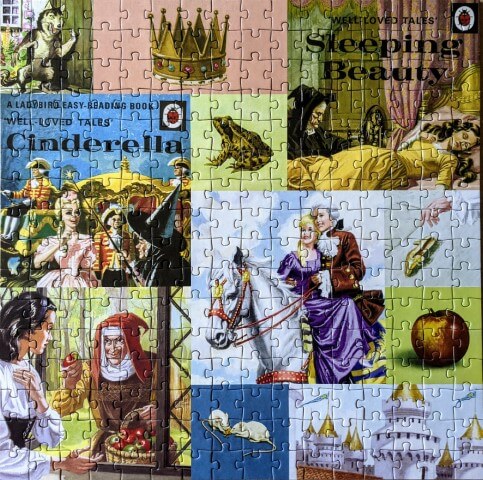 Sunday evening, KK did her first COVID-19 self-test, I've been impressed with how maturely she's been handling the whole testing situation, I'm not sure I would have at her age. The self-test is interesting, the indictator device is a bit like a pregancy test - (as a father, that's such an odd thing to think) - you sit waiting half-an-hour for the result... negative! So back to school for KK! 😆