Week 10
March 8, 2021 to March 14, 2021
Could this be, a glimmer of the return to "normality"? KK's last week of remote learning, back to "in person" school on Monday, (that's today, at the time of writing, bah to my self-imposed Sunday evening deadlines!).
It was a funny moment when LL returned to school last Monday, my initial reaction was to rejoice, hurrah! A small piece of my freedom returned. By lunch, I remembered that we usually sat down to eat whilst watching old quiz shows on Challenge TV, like Catchphrase or Wheel of Fortune, (all very dated), and I felt a pang of sadness that LL wasn't there to enjoy this with us, as she usually did.
Tuesday, Lucy completed the jigsaw we'd started the week before, I say completed, there was 1 missing piece! Although we later found out that Lucy's dad had it. He'd been wondering which jigsaw this random sky-blue piece had came from, mystery solved.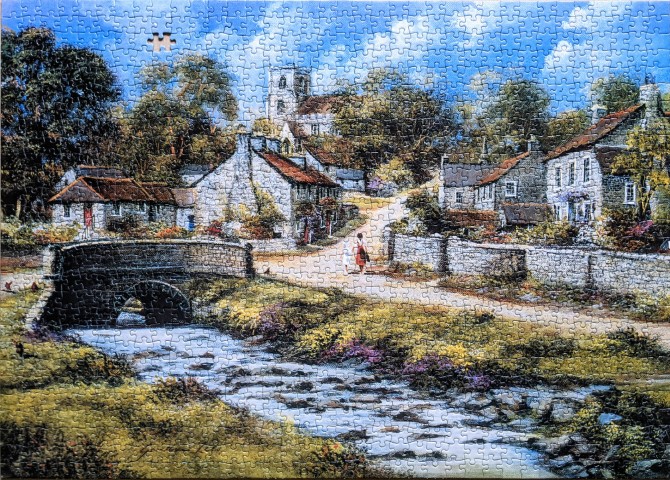 Wednesday, My mum had her first COVID-19 vaccine. Another small piece of returning to "normality". 🧩❤
My neighbour lent me The Harry Hill Movie on DVD, which itself is funny as my DVD player has been packed in a box since I moved house over 3 years ago! I used to love watching TV Burp, my neighbour recommended that it was one for the whole family... and he wasn't wrong, it's a dreadful story, cringe-worthy gags, plenty of facepalm moments... we loved it! 🤣 (I say we. KK made a swift exit halfway through, she'd had enough of the cringe.) The chicken scene just cracked me up, hilarious!
Thursday, KK was desperate to start Phase Three of the MCU, with Captain America: Civil War - which is pretty much an Avengers movie. KK is loving these movies, picking up on all the fan-service references, (some of which I'm only noticing after a few viewings).
Lucy and I have started watching I May Destroy You on BBC iPlayer. It'd been something that I heard a lot about, had loads of good reviews and press, but I'd put off because I thought subject-wise it'd be too heavy. So far, (we're about 4 episodes in), it has a good balance of humour to offset the darker moments.
Friday, the day for the next letter in Alphabet Albums. Selections for "F" are: Fun - Some Nights, Frazier Chorus - Sue, and The Faint - Wet From Birth.
Saturday family movie night was KK's choice... Harry Potter and the Goblet of Fire. This is the first of them that is rated 12, LL felt a bit awkward about watching a movie that she "shouldn't be watching", but given she'd played the LEGO game and already knew most of the story, it was less of a risk. To be honest, the most noticeable things were Ron saying "Bloody Hell!" a few more times than usual.
Sunday, Mothering Sunday. ❤ Much love and respect to all your mothers!
Jigsaws. Nothing this week. But I have been experimenting with the idea of doing a time-lapse video of completing a jigsaw. Trying to figure out how to best tackle it was a struggle, turns out that the built-in time-lapse feature on my Android phone (Pixel 4a) has a limit of 20 minutes. I tried using my old GoPro (HERO4 Session), but the resulting video felt janky. After searching and searching, I found an Android app called Framelapse, which seems to do the job well. Here's my test footage...