Week 06
February 8, 2021 to February 14, 2021
Threw myself into work mode at the start of the week, Monday, Tuesday were fine, they flowed nicely. Maybe too nicely - might have even zoned out, as by Wednesday I thought it was Thursday! Losing track of days (again), welcome to Lockdown Britain 2021.
Biscuit of the week is Chocolate Hobnobs. Oh, how I missed thee, it has been too long.
Found the new feature in Chrome web-browser, to generate a QR code from a website's URL. There I was thinking that QR codes were a passing fad, but now it's upfront in browser address bar! Here's one for my weeknotes...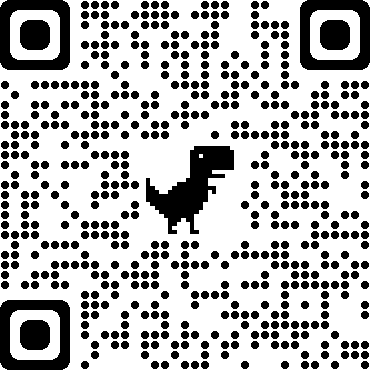 Loving the T-Rex from Chrome's offline dinosaur game. Also TIL that you can play the Chrome dinosaur game whilst online, by typing chrome://dino/ in the address bar, (I think Chrome disallows you to click on the link directly).
I wrote a blog post about how to use Umbraco's Image Cropper configuration as a data-source for a Data List editor - from my Contentment plugin. I'd been wanting to write something Umbraco-related, something in addition to these weeknotes.
Thursday evening we had school Parents Evening for KK. Of course, thanks to COVID-19, it was all done online. The school use a platform called School Cloud, a week earlier we went in, selected which teachers to see at which time slot, then on the night we logged on, had the full schedule all set up. All we had to do was wait for each video call to start - up pops the teacher, have a 5 minute chat, then on to the next one. Other parents I've chatted to have all been very impressed with the platform - even more than doing in-person Parents Evenings!
Afterwards, I joined the Umbraco London meetup - lots of great info about re-platforming to .NET 5 and future Umbraco roadmap. Although I've become very weary of Zoom calls - especially with larger audiences, I started to keep my video off and not really interact much - felt odd for me. Hoping that's just a lockdown thing.
Friday - as one of my friends told me - was a Palindrome Day! . I guess that is better than Groundhog Day... oh no wait, does that it's the same, but backwards?!
Friday was also the day for the next letter in Alphabet Albums. Selections for "D" are: Lana Del Rey - Honeymoon, Delays - Faded Seaside Glamour, and The Doors - The Doors.
Didn't watch too much TV this past week. Watched the latest WandaVision episode, but I don't want to say much about it yet - no spoilers, still enjoying it. Adam Curtis has a new documentary film series out, Can't Get You Out of My Head, only watched part 1 so far.
Saturday family movie night would have been my choice, but KK was having a virtual sleep over - is that a thing now? A continuous video call with a few friends, watching Netflix together using some sync party app thing - I'm told it's called Teleparty. Anyway, so I let LL pick a movie instead... Monsters, Inc.
My sister got me a "jigsaw trilogy" for Christmas, two 500 pieces, and one 1,000 pieces. I did the 500 piece ones over the weekend...
Sunday evening, we tried to find a nice romantic comedy movie to watch for Valentine's Day - not that we usually do anything for valentines - couldn't find anything classy, so we picked Penguin Bloom - a good heartfelt movie.