Week 03
January 18, 2021 to January 24, 2021
These lockdown weeks seem to be getting tougher. This past week has mentally taken its toll on us - at this point I always acknowledge that we (as a family) are in a much more privileged position than others, so I shouldn't complain - although everything is relative to your own circumstances. Oh, how very English of me.
Monday, I received the replacement Umbraco MVP New Year's gift, (the first one arrived in several shattered pieces, eek!), just in time for the afternoon's Umbraco HQ Hew Year webinar. Main announcement being that this year's CodeGarden will be a virtual event.
re: (the now regular slot of) MCU movies - I gave in, we watched Iron Man 3 on Monday night. During the week I watched the first 3 episodes of WandaVision - I didn't watch with KK, didn't know if it'd spoil the other movies for her. WandaVision is interesting, at face value it's fun, while the underlying psycho-drama is apparent. Curious how much of the comic's House of M storyline plays out in the show.
Tuesday was one of those weird days again where I thought it was Wednesday, lost all track of time. I wasn't feeling too great, had a stomach ache - couldn't concentrate on work, had to escape the house - went for a long walk, few miles to get some fresh air and clear my head. A good opportunity to listen to the current Alphabet Albums.
Wednesday - the actual Wednesday - I had an Umbraco MVP Connect call, covered similar to Monday's main HQ webinar, but with extra insider news - well, things that will be announced in due course, (or on Friday's umbraCoffee).
After the MVP Connect, I had a catch up with Marc, (Hi Marc! Yes, you got a mention on my weeknotes. 😆), chatted about family, work and editorial UX for Contentment Data List editors. Thinking around the usability of multi-selecting from a long list of options - more to come on that in future Contentment releases.
I've been winding the kids up with corny "dad jokes", so I don't see why you (dear reader) should get off so lightly. I hereby present my dubious (and meta) "Dad joke of the week"...
Thursday evening, I missed the Umbraco Manchester meet-up! It looked a good one, I'm always curious about insights on Content Modeling. In my defence, I was preparing for LL's 10th birthday... I seem to get carried away with doodling on their birthday cards.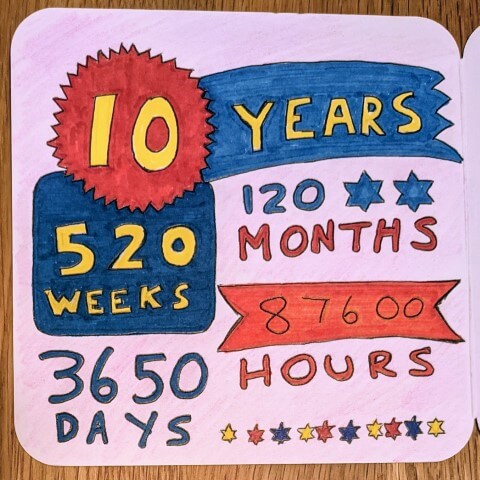 Saturday we went out for a 6 mile walk, an elaborate round trip to Lucy's folks to drop off some birthday cake.
Saturday family movie night was LL's choice... Lilo and Stitch 2 - she had suggest Pocahontas, (which none of us have actually seen before), but she suddenly changed her mind last minute. I like the original Stitch movie, the sequel was daft, but it was only about an hour long, and it had Elvis references!
Once the kids were in bed, I watched Dark Waters - I do like a good "inspired by a true story" political/legal thriller, I'd been wanting to watch it for a while - but knew the subject matter would be quite heavy, so been putting it off. Great acting and writing, I couldn't get to sleep afterwards, the details kept playing on my mind. Will we ever understand the darker impacts of our own inventions, on the environment, on our humanity?
Been playing LEGO Indiana Jones on the Wii with LL, reminiscing various scenes from the movies, so decided to watch Last Crusade whilst writing up these weeknotes.